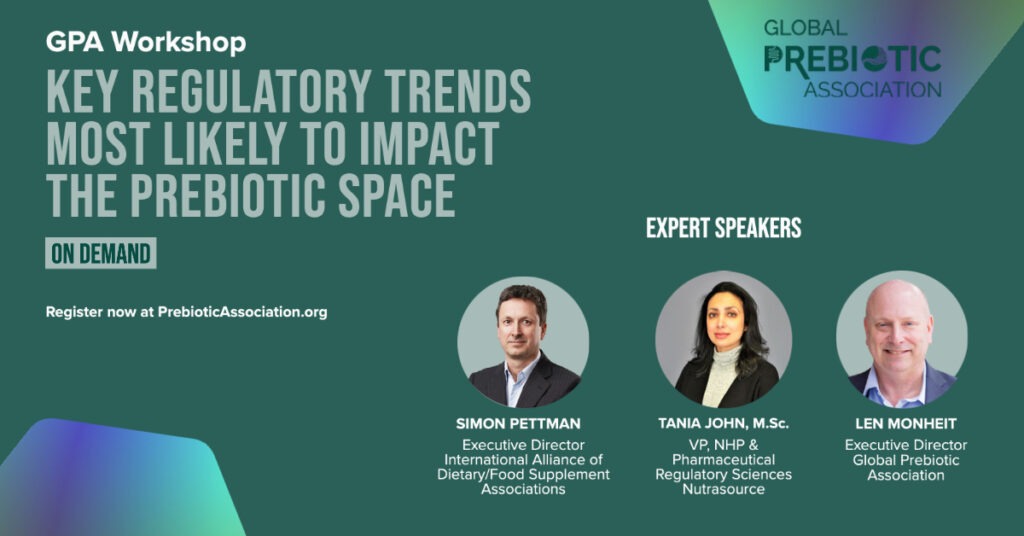 GPA Workshop: Key Regulatory Trends Most Likely to Impact the Prebiotic Space
Wed., Oct. 13 | 10 to 11:30 a.m. ET (11 to 11:30 a.m. GPA Members Only)
The prebiotic market continues to expand, across both the food and beverage and supplements marketplaces. Much of the world though, does not have a formal regulatory definition of prebiotics. There is a definition in India, and ingredient, brand and claims processes elsewhere that are guiding product development, launch and positioning strategy.
During this workshop, IADSA (the International Alliance of Dietary/Food Supplement Associations (IADSA) and the Global Prebiotic Association (GPA) will guide a discussion about global regulatory trends that will impact the prebiotic market, what recent regulatory developments will mean for the industry and get your questions answered.
Please complete the below form to access the webinar on demand and you will be directed to the On Demand page and receive an email to bookmark for future access. 
Experts:
Simon Pettman, Executive Director, International Alliance of Dietary/Food Supplement Associations (IADSA)
Tania John, M.Sc., Vice President, NHP & Pharmaceutical Regulatory Sciences, Nutrasource
Len Monheit, Executive Director, Global Prebiotic Association (GPA)